Find the ankle support that suits you!
We have developed a range of ankle supports to relieve your swollen and painful ankles.
We listened to customer feedback and added features to offer both flexibility and increased support and stability. Leaving you to get on with your life with peace of mind without the worry of your ankle pain and instability slowing you down.
If you've just injured your ankle, had a ligament sprain or are suffering from a flare up of arthritis, then wearing an ankle support can be one of the few things that keeps you mobile! We understand that one support doesn't suit everyone and we supply a variety of braces to meet your needs. ion your needs may change and it can be difficult to know what is best for your joint. Our in-house physiotherapist with over 10 years experience dealing with musculoskeletal injuries has given the break down of these knee supports so you can choose the one that's right for you.
IMPROVING CONDITIONS SUCH AS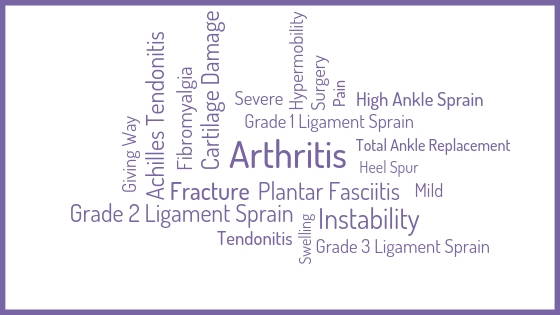 Controlling your swelling throughout the day
Providing you with with flexibility and freedom of movement
Reducing the ache and stiffness that builds up with activity
Reinforcing Ankle Support
Reducing your limp and getting you back to golf and bowls
Ideal for arthritis and cartilage wear and tear
Adjustable for the best fit and peace of mind when out and about
Our compression sleeve has been designed to support you when swelling and mild soreness are your main concerns. If you have been feeling like your ankle fatigues more easily or you are struggling to find a position that is comfortable during rest, or even long car journeys a compression sleeve can provide you with relief. A grade 1 ankle sprain can enjoy a speedier recovery if you wear a gentle support as soon as you can to offer rest and compression.
It's elastic multi-directional compression support aims to reduce joint swelling and alleviate the pressure on sore nerves and tissues. This helps to reduce your sensitivity to stiffness and keep the joint warm and supported. If you are feeling a permanent discomfort with swelling that worsens during the day, this compression sleeve is simple for you to make part of your morning routine.
Great for activities such as:Driving, Walking, Domestic Chores, Sitting Down, Bowls & Gentle Keep Fit.
You may start to find that your ankle needs a little more support, if you've gone over on your ankle and sprained the ligaments then walking unsupported can be very challenging. A grade 2 ankle sprain can be very painful and difficult to put weight on. Walking unsupported can make the pain worse and increase swelling, choosing a higher level of support gives you peace of mind to keep going with you symptoms getting worse.

This ankle support is easily slipped over the foot for easy application with painful sprains or tendonitis. You secure with 2 straps that allow you to adjust the support as you feel comfortable while still being breathable and adding compression. You may feel you need additional reassurance with an everyday support - that's where the extra strap is used. The reinforcing straps means you can get the support where you need it the most.

Great for activities such as:Bowls, Golf, Walking (particularly for uneven ground), Gardening, Mobility & Exercise.

If you are worried that you've had a serious injury, if pain is almost too much for you to bear, or you are recovering from surgery or returning to high intensity sport, a lace up brace is mostly to meet your needs.

It's additional support with reinforced bars mean your ankle can't let you down. When placing the brace onto the ankle the feeling of relief is immediate, your ankle and foot held in the best alignment to support healing and rest. The fear of going over on your ankle evaporates leaving you free to get on with your day. Held securely with a lace up front gives you a feeling of complete and surrounding support and protection.

If it's surgery you're recovering from (or trying to avoid!) then you may also find wearing the brace over your socks is the most comfortable option and adds extra warmth to a sore joint.

Great for Activities Such As: Walking, Speeding up recovery, Return to Sport following Ankle injury, Walking with a stick or crutches or coming off them, Avoiding Surgery, Golf.

Free UK Wide Delivery
Free delivery as standard, or pay a little extra to get it faster.
Highest Rated Orthopaedic Supports
Loved by thousands, we have a 95% satisfaction rate.
Your Security is Our Highest Priority
Checkout in the knowledge your details are safe and secure.